Working on a Workshop Wall at AgileAus18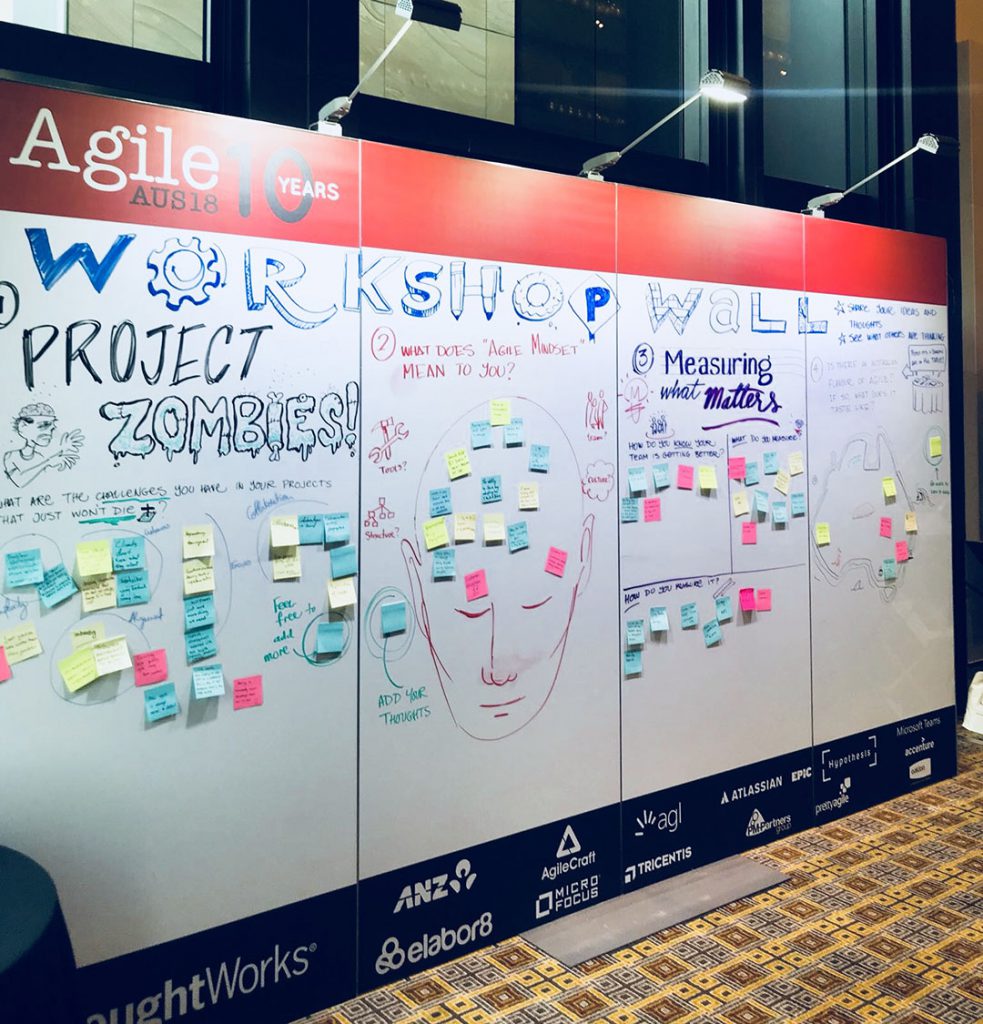 The tenth anniversary of the AgileAus Conference was pretty special in a lot of ways. One of the new things we tried this year was to give attendees another mode of interacting with each other with a Workshop Wall.
A Workshop Wall is a set of activities hosted on a whiteboard wall at a conference for people to add their thoughts, feedback and ideas using sketches and sticky notes. It's a great way for an organisation to learn about customers and attendees and for attendees to learn from each other. Conferences can get pretty hectic, and this format gives people a chance to pause and reflect on what they're learning, and what they want to take away back into their own work. After ten different questions and nearly 150 sticky notes, here's what the AgileAus18 attendees collectively had to say.
What problems do we have that just won't go away?
Despite Agile going gangbusters in all sorts of organisations across the world for years now, we still struggle to make it work well. We struggle to connect our projects with those great outcomes we all want out of Agile: shipping real value to customers often, continuous learning and improvement, co-ownership of how the work is planned and executed, things like that. The main issues that were top of mind for attendees were:
Misunderstandings and different expectations amongst team members, stakeholders, clients and management
Bringing new team members (and new stakeholders/approvers) up to speed with what's going on
Not setting up a project/team for success at the start
Not keeping work properly and clearly connected to the strategic intent and business goals
Dealing with constraints, different timezones, dependencies, and decision-making
How do we measure what matters in our work?
Keeping our eyes on the prize can get tricky, so it's important that we always have a clear idea of what success means and how to measure that success. We know we're getting better when we're delighting and delivering more value to our customers;minimising dependencies, impediments and sign-offs, and being able to respond faster to their customer feedback.
Here's what we actually measure:
Cycle time, lead time, and customer NPS
No. patches following planned release
Time to fix Mean Time to Repair (MTTR)
The team's vibe: attendance, ideas, participation
% tickets rolled over into the next sprint
Take-up of Agile practices and principles in each team
Tech health, product health, and team health
The main methods for capturing this information are through customer interviews and online surveys. More advanced organisations are also using Agile health radars and maturity matrices.
What does an Agile mindset mean to us?
There was a real 'return to our roots' sentiment during AgileAus18, and this was clear as attendees answered this question. We're aware that we can't cargo cult our way to greatness; simply doing 'Agile things' doesn't necessarily mean we'll get the outcomes we read and hear about. It's all about combining a healthy Agile mindset with Agile practices. But what do we actually mean by 'Agile mindset'? Here are the themes that arose:
Putting the customer first
Being flexible and open to change
Being willing to improve (and actually improving too)
Being curious
Being open with each other
Being responsive and shipping constantly
That's a pretty nice score card of 'Agile mindset' health factors right there!
What do we think is the future of Agile?
The main thread uniting the answers to this question on the Workshop Wall was that in the future the Agile footprint will be much greater, not only in organisations but throughout other domains, such as science and education. Perhaps Agile will just become so familiar that it will cease to be known as a separate thing with a separate name. Imagine that! Here are some other futuristic thoughts:
The fight to get Agile going throughout the whole organisation will keep going, regardless of 'the establishment'
We'll need to improve how we onboard leadership teams into the Agile mindset and practice
We'll have more shared digital workspaces
Leaders will become true advocates, genuinely wanting to make people awesome
We'll have better feedback loops linking customers with organisations more closely
What did we take away from AgileAus18?
A lot of attendees were keen to stay in touch with each other to continue building an Agile community of practice in Australia. There was obviously a metric tonne of valuable insights, experiences and lessons for everyone to take away from this year's Conference, but what did it all boil down to? It was insightful to see a really strong sentiment appear on the Wall about connecting more deeply to the Agile values at a personal level, and then doing more to translate this to the team, and helping the team monitor and improve itself. Attendees proposed we can do this by:
Conducting personal retrospectives
Maintaining the courage to be true to our values
Leaving behind our 'industrialised' approach to Agile
Talking more about what we need to do better as a team
Co-creating solutions with our team when a practice is not working
Telling stories to reinforce what matters to us and to our customers
It was gratifying to see so many people engage with the Workshop Wall this year, but what was even better was hearing the depth and honesty of conversations that people struck up with each other near the Wall, as they reflected on what they were taking in around them. Hopefully this experience – as well as all the other aspects of the AgileAus18 Conference experience – stays with us throughout the year to come.

Stay in the loop
To receive updates about AgileAus and be subscribed to the mailing list, send us an email with your first name, last name and email address to signup@agileaustralia.com.au.