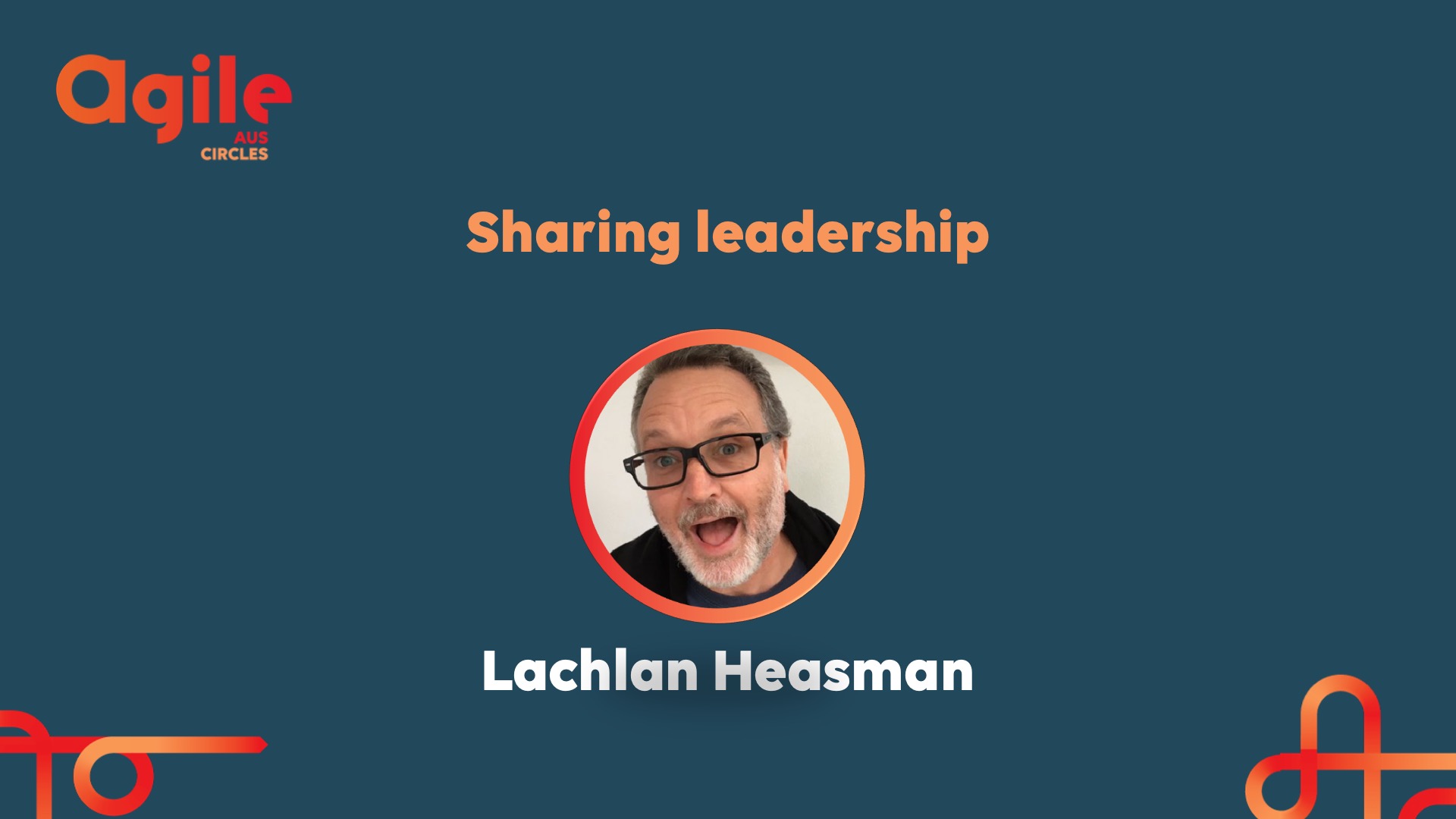 Shared Leadership
Guest post by Lachlan Heasman
I am going to be running a circle on the topic of Shared Leadership. I thought it might be useful to give some information on this topic, so you know what you are in for, or even if you're interested.
If you're like me any time you see "leadership" pop up in industry conferences – like Agile Australia – you wonder if it's going to be "Leadership™". Someone selling a new assessment tool or some leadership model that you can attend a course to learn about ("sign up to my Patreon for exclusives"). Unfortunately for me, Shared Leadership is not "Shared Leadership™" and there's no Patreon or two-day certification training course for you to attend after the session (but maybe I should write one between now and November).
Shared Leadership is how leadership is shared within a team. It is a phenomenon that you have probably experienced. Share Leadership can happen even when the team has someone in a leadership position or not. I think it's an important topic for us to understand in both the agile world (where teams are almost ubiquitous) and the current (and maybe future) remote working environment.
From the last 20 years of research on Shared Leadership, we know it occurs across cultures and different industries. Shared Leadership has been studied in the USA, Denmark, South Korea, China, Finland, India, France, Italy, South Africa, and the UK. Studies have examined students (undergraduate and post-graduate), manufacturing teams, software development teams, insurance sales teams, volunteer teams in churches. The results of the studies are interesting, for example sharing leadership supports team performance beyond that of a single leader (though it does not exclude having a single leader, you can have both – just like tacos), shared leadership was found to be related to greater job satisfaction and lower job stress, and it was also found to be a good predictor of team innovation.
So what is leadership?
Over the years there have been several different attempts to describe leadership; trait theories (aka "Great Person" theory) where leadership is something some have because of their personality or physical or the family they were born into. [Weirdly enough I think there is a strong tendency for people to lean on the "great person" model of leadership even in 2020.] Style theories described what leaders did instead of what or who they were. Contingency theories explored how and why leadership traits and behaviours needed to change with different situations. Now we have leadership theories such as "transformational leadership" (where the leader enacts transformation behaviours) that are somewhat contingency and style based but take into account the follower side of leadership (to some extent).  
I would usually give a glib answer to the question "what is leadership?", such as "leadership, I know it when I see it". I do this because I am a smart ass, and leadership is not easy to define, which is why there have been several broad approaches to studying it. Leadership is difficult to define because it's not a physical object (e.g. a hammer) or a single behaviour (e.g. a nod). Still, when I have to put my definition of leadership out there, I use this one:
"leadership" is when you provide some influence or guidance to your team that helps the team with its work.
The simplicity of the definition allows people to experience and enact leadership in multiple ways. Which may be a cop-out on a complicated phenomenon to define, but I think this is closer to everyday experiences of leadership. I also think this way of conceptualising leadership works whether or not you are in a leadership role (such as one of those many roles that had its title changed from "manager" to "leader" in the last 15 years).
How can this "leadership" be shared?
Good question. That's why I asked it.
Imagine a situation where we have a team that is trying to collectively complete a piece of work, particularly complex work such as building or maintaining a product. (I hope that is familiar to you.) The team might be trying to improve the quality of their product or find a way to improve communication within the team without adding more video conference sessions. In situations like these, we need to have several people share their knowledge to help the team create and develop ideas on what to do and how to do it. There will be moments where ideas are put forward and adopted by the team (and moments where ideas are put forward and rejected). It's these moments of offering an idea and the acceptance of the idea that is when leadership is shared because the individual is providing influence to the team that helps the team with its work.
I am guessing that anyone working in an effective agile team will have experienced this kind of interaction. It may have occurred in a Sprint Planning session or Retrospective, or at any other time, we collaborate. I would hope this is encouraged because it's important for self-organisation.
So why is it worth running an AgileAus session on this topic if it's commonly experienced?
I have a few reasons. First, sharing leadership helps teams so I want to cover what Shared Leadership looks like in teams, a little more on why it's important and how you can help to make it happen in your team. Second, it's an interesting way to think about leadership and what it looks like when we have new organisational structures that are both flat and distributed. Third, it helps us understand how our teams are working and when we understand something it's easier to work with it. Finally, I hope you will want to get involved in the research we are doing on shared leadership in Australia.
Lachlan Heasman is presenting on the AgileAus Circles on Tuesday 3 November 2020 @ 11:00am AEDT – find out more and register for free at agileaustralia.com.au/2020/circles/

Stay in the loop
To receive updates about AgileAus and be subscribed to the mailing list, send us an email with your first name, last name and email address to signup@agileaustralia.com.au.