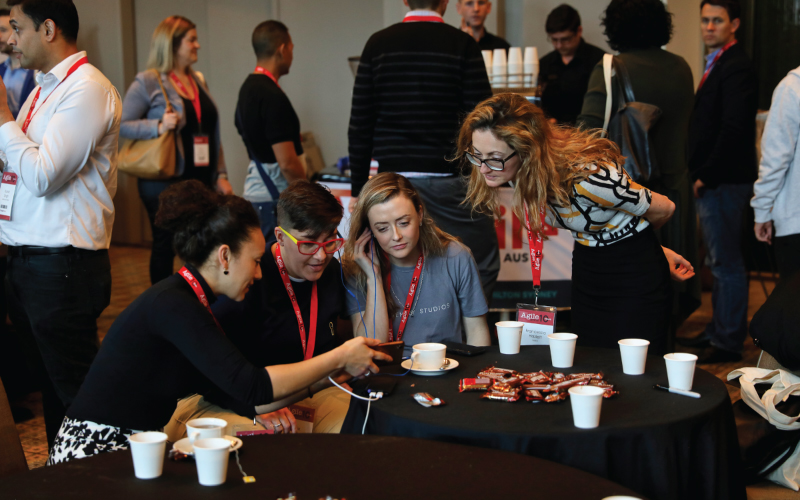 AgileAus20 in the time of COVID-19
To keep you in the loop, this page will be updated with any developments that affect the running of AgileAus20 events including the Conference (15-16 June 2020) and the accompanying workshops. If you are registered for any of the events or a speaker, sponsor or supplier, we will contact you directly the moment any decisions are made.
In light of COVID-19, we are aware that many people have questions about what is going on with AgileAus20.
We are optimists – so we are still hoping that AgileAus20 (15-16 June 2020) and the accompanying workshops will go ahead as planned. Given the current very Volatile, Uncertain, Complex and Ambiguous (VUCA) environment however – we need to take every step we can to minimise risk, protect the communities we serve and make our events the best they can be!
It has not been necessary for us to make any big decisions quite yet, however we are working on ideas should circumstances change rapidly.
In a perfect world, the Conference will be as big and beautiful as usual. We are also prepared to rework the format if the environment in June is still not conducive to large gatherings. If travel is not possible for most stakeholders we may decide to congregate smaller, more distributed gatherings or alternatively, postpone AgileAus20 to later in the year if it is the safest option.
To support a possible postponement of AgileAus20, we have (very excitedly) begun planning for a 'ResponsibleTech' event, to be held on Monday 12 – Tuesday 13 October 2020 at the Pullman on the Park in Melbourne. This may prove to be a perfect pairing with a postponed AgileAus20 if that is the way the year unfolds.
We would like to thank the AgileAus community for their ongoing support – it means the world to us! The recent EOI and Squid Tank participation has been so reassuring. Be assured that whatever the outcome, every ticket you buy, can become a special voucher to use at any of the events in the AgileAus family (Conference, workshops, Better Worlds, The Deep Dive, ResponsibleTech…and more coming!)
AgileAus believes strongly in the magic of human to human connection. To that end, 100% virtual delivery for our events will only be pursued as a last resort.
 The safety and enjoyment of our attendees, speakers, sponsors, suppliers and volunteers is as always, our first priority. We will be taking advice from stakeholders and health authorities to inform our every action, and ensure that all decisions are made with the best interests of all those involved in AgileAus20 at heart.
AgileAus is built on the goodwill of the community it serves. If you have any suggestions, queries or comments on how we can best deliver valuable experiences to you in this VUCA world – please do get in touch to adina@agileaustralia.com.au or via phone to +61 3 9663 3093.
From our freshly washed hands to yours, 
Adina Thavisin
On behalf of TeamSlatts and AgileAus

Stay in the loop
To receive updates about AgileAus and be subscribed to the mailing list, send us an email with your first name, last name and email address to signup@agileaustralia.com.au.