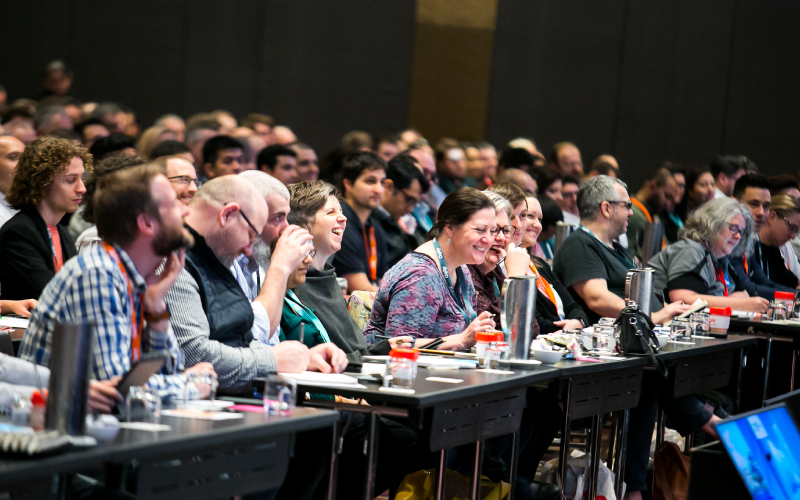 AgileAus20 – what we are looking for!
AgileAus20 will soon be accepting speaker Expressions Of Interest (EOIs) for TWO WEEKS ONLY to shape a program that represents, nourishes and inspires the Australian Agile community.
What are we looking for?
Building the AgileAus program is more art than science, and often the most memorable lessons come about in the most unexpected ways.
We have found, however, that over the years the community has landed on some criteria that help encourage the kind of content that has the most potential to deliver value to the AgileAus audience.
When reviewing EOIs to build the Conference program, a team of dedicated stream chairs and reviewers will be considering:
Originality:
Is what you are sharing your own or your company's experience? Is it a new spin on a well-travelled topic? Is it a personal reflection with unique insights?
The fresher the take – the better!
Takeaways:
Are you able to articulate one idea well? Is your talk going to equip an audience to share clear lessons with their teams and organisations? Do you have real-life examples to support your idea?
An outcomes focussed approach is encouraged.
Intention:
Are you overtly or covertly trying to sell a product or service? This is a no go.
The AgileAus audience is allergic to sales pitches.
Impact:
Does your idea have the potential to move the AgileAus community forward? Could it be inspiring, enlightening and challenging to your peers?
Your idea needs to be strong enough to resonate whether you are presenting to a niche group or burgeoning crowd.
Relevance:
Is your idea valuable for the AgileAus audience? Does it address the theme of To Agility and Beyond? Does it speak to topics identified as a 'must-have'* by the AgileAus community?
Connecting with the audience is key.
Collaboration:
If your EOI progresses to the Squid Tank stage – are you open to feedback from the community? Are you willing to work with us to unfurl your idea and make it as good as it can be?
Teamwork makes the dream work.
Balance:
AgileAus takes special care ensure that no constituency is over or underrepresented across the breadth of talks on the program, which include (but are not limited to) the following considerations:
A balance between theory and practice
A balance between tech and non-tech talks
A diverse representation of different organisation sizes (from enterprise to startup), and industries (from financial services to for purpose)
A large variance in speaker roles and job titles
Ample representation of underrepresented groups and individuals.
Our commitment
It's a two-way street! When reviewing EOIs for AgileAus20 – we commit to:
Honesty, transparency, support and constructive feedback
Giving you the opportunity to create the best EOI you can
Once confirmed, speakers will be given the utmost support to ensure they have all they need to make their message resonate with the audience!
EOIs for AgileAus20 are opening very soon so please watch this space.
Up up and away!
*Must-have topics blog coming soon!

Stay in the loop
To receive updates about AgileAus and be subscribed to the mailing list, send us an email with your first name, last name and email address to signup@agileaustralia.com.au.