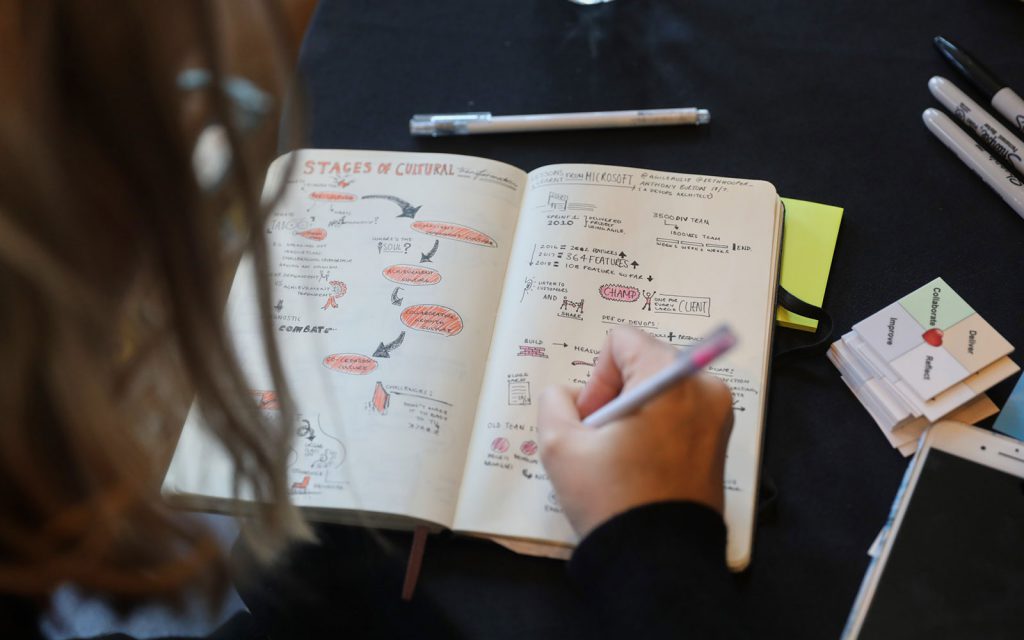 Sketch Crew students power up their future at AgileAus18 with sketchnoting
Guest post by Ben Crothers, Design Strategist, Atlassian.
Let's face it: no matter how inspiring and energising conferences are (and Agile Australia 2018 was indeed inspiring!), it's always a struggle to absorb all that great content from all those talks. Before you know it, you're back into the flow of your own day-to-day work, and all those brilliant ideas and lessons start to fade.
Thankfully it doesn't have to be that way. Sketchnoting — or visual note-taking — is a really effective technique for capturing and distilling notes from conference talks, in a way that plain written notes (or typing on the keyboard) can't match. Research has always shown that we are more engaged, and have better information retention and recall when using visuals as well as words. In one 2009 study, a group of people who were drawing in this way recalled 29% more information than another group who weren't.
The good news is that anyone can do sketchnoting. Sketchnoting is about capturing ideas as words and simple images, not great artwork. No matter what you think your drawing ability is, you can apply this style of note-taking, and get the benefits of engagement and retention right away.
This year at Agile Australia, we decided to take sketchnoting to the next level, and invite a group of volunteer students to apply their visual skills and capture the entire conference as sketchnotes.  And what a visual feast it was! A Sketch Crew of 11 students created an impressive collection of sketchnotes from across all the talks. For many of the students, it was the first time they had tried sketchnoting, and it was inspiring for everyone involved to see the group sharing their work with each other and encouraging each other.
If you were at the Conference, you might have seen the Sketch Crew around, sporting the (now collector's item) Agile Australia 2018 Sketch Crew t-shirt.
Sketchnoting is a pretty social activity, too. Seeing others sketch is always fun, and this was a great way for people to strike up conversations with the students, and for the students to be more engaged with the subject matter of Agile in large organisations.
Sharing sketchnotes on social media also brought out other sketchnoters in the crowd: Samantha Connelly from Campaign Monitor and Zhi Quan Lee from Teamworx Consulting were sharing their sketchnotes online as well.
One of the most valuable lessons that the students learned about sketchnoting is that it's too hard to capture everything you hear; you have to listen hard, synthesise and summarise, and then sketch in a simple way that's rapid enough that you're ready to listen for the next point.
In a world where we are bombarded with more and more information every day, we all need to develop this power of synthesis more and more. The experience that the Sketch Crew students had sketchnoting at Agile Australia this year has given them a solid grounding in this super power, and will help them reach their true potential, no matter what professional future they head into.
If you'd like to know more about
sketchnoting
, how to do it, and how it can be your
super power
at work, take a look at these resources:
"#AgileAus18 is the highlight of my year. Had the opportunity to sketch note for the first time during wonderful talks by seasoned speakers from Microsoft, ANZ, Food Bank New York Margarette Purvis, ThoughtWorks, Atlassian, World fuel service, Elabor8, Australia Defence, and many more from around the world on the future of Agile. Thanks Ben Crothers for introducing us to the wonderful world of sketchnoting. Looking forward to an exciting future." Eunice Ofosua Abankwa
"Earlier this week, I had an incredible opportunity to be a part of Sketch Crew at Agile Australia conference. Ben Crothers transformed my understanding about note taking and acted as a great mentor throughout the conference. It was an amazing learning experience! Thank you for all your support Ben Crothers and thank you Agile Australia for providing such an amazing opportunity." Yoshita Pradhan
Check out some of the student sketches below:

Stay in the loop
To receive updates about AgileAus and be subscribed to the mailing list, send us an email with your first name, last name and email address to signup@agileaustralia.com.au.