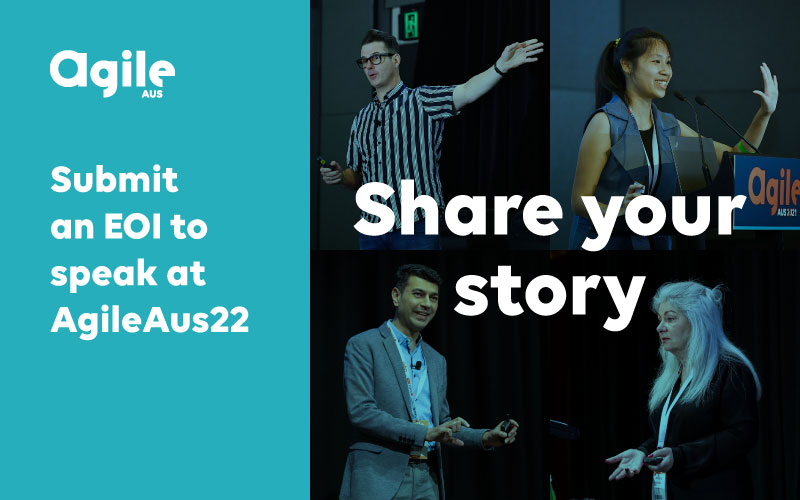 Submitting an EOI to speak at AgileAus22 – criteria & hot topics!
Have an idea for a talk at AgileAus22 which will be held on 17-18 October 2022 at Pullman Melbourne on the Park?
For TWO WEEKS ONLY in mid-May, we will be accepting speaker EOIs that have the potential to inform, inspire and delight your peers.
What we'd love to hear
Here is a cheat sheet that we hope will help you prepare something that has potential to resonate with the AgileAus audience!
Originality
Have we heard this story before? Is what you're sharing uniquely your own or your organisation's experience? Do you have real-life examples to support your idea? The fresher the take – the better!
Takeaways
Are you able to articulate one idea well? Is your talk going to equip an audience to share clear takeaways with their teams and organisations as soon as they get back work? A strong outcomes focussed approach is essential.
Intention
Are you overtly or covertly trying to sell a product or service? Sales pitches are never well received by the audience.
Impact
Does your idea have the potential to help your peers? Could it be inspiring, enlightening and challenging for them to hear from you? Does your EOI have a title that grabs the attention of those reading it? Think "My Big Fat Agile Wedding" vs "Using agile to plan a wedding" or "From Legacy to Legendary" vs "Reflecting on our agile transformation".
Relevance
Does your EOI address the theme of Leading with Empathy*? Is your topic addressing a must have topic (see below)? Is your idea hitting the right note at the right time for the AgileAus audience? AgileAus services a broad church of agilists and job titles – If you know your talk is particularly valuable for a specific audience – let us know!
*The theme is by no means meant to be a barrier to entry, and we hope to see a broad range of ideas, however a nod to the vibe of the Conference is always good 🙂
Collaboration
If your EOI progresses to the next stage – are you open to feedback from the community? Are you willing to work with us to unfurl your idea and make it as good as it can be? Teamwork makes the dream work.
Balance
AgileAus takes special care ensure that no constituency is over or underrepresented across the breadth of talks on the program, which include – but are not limited – to the following considerations when we plan the program:
A balance between theoretical and practical talks
A balance between tech and non-tech talks
A diverse representation of different organisational sizes (from enterprise to startup), and industries (from financial services to for purpose)
A selection of speaker roles and job titles
Representation of marginalised groups and individuals.
Our commitment
It's a two-way street! When reviewing EOIs for AgileAus22 – we commit to:
Honesty, transparency, support and constructive feedback
Giving you the opportunity to create the best EOI you can
Once confirmed, speakers will be given the utmost support to ensure they have all they need to make their message shine!
Hot topics
When we asked the volunteer community what they want to hear this year they came up with the following suggestions (please note these are a starting point and not intended to constrain your submissions!):
Compassionate Leadership
New ways to thrive
Creating value
Non negotiable/inevitable Agile
VUCA is the new norm
Necessity leads to adaptation
What does Agile look like in the '20s?
What is Agile really?
Untethered – Global, Distributed,
Remote workforces – (onboarding/security/trust and beyond)
The flow system
Mental wellbeing and belonging
Different flavours of Agile – why do some taste better than others?
The modern Product Owner
Remote Agility frameworks
Agile in non-tech environments (HR, marketing, Defence & more)
Tech product management
DevOps – what it is and what it isn't
DevOps as a cultural practice
Team topologies
Servant Leadership
Gaining cut-through with senior leaders
Organisational and relationship system coaching
Cynefin – decision making for complex times
How organisations prioritise for value
Agile capability development across the organisation
Workspace ethics, metrics and outcomes
Post-COVID leadership
OKRs
Could the future be open-sourced Agile?
Leading Agile transformations with empathy
Agile product strategy
Managing the maze through decentralisation
Will it take the next generation to truly embed Agile?

Stay in the loop
To receive updates about AgileAus and be subscribed to the mailing list, send us an email with your first name, last name and email address to signup@agileaustralia.com.au.